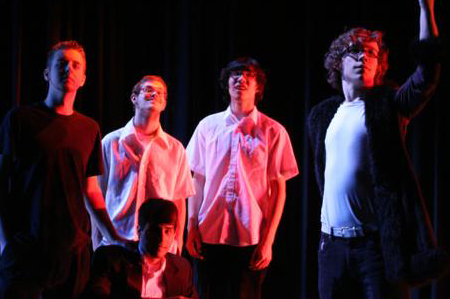 HELLO LEFTY
They're young, fun, inventive and wildly popular. Winners of the fave all-ages band award the past two years, HELLO LEFTY are a fave of not only their audience, but other artists on the Augusta musical landscape. HELLO LEFTY (guitarist/vocalsit Pete Cumishy, multi-instrumentalists Adam Mizell and Ryan Moore, drummer Michael Gonzalez and bassist Jack Craig) aren't just your typical young band.
LL-OK, for the folks out there who are new to Hello Lefty, where'd you guys hook up? What's the story guys?
HL - What feels like millenia ago, we (Michael, Peter, and Adam) started playing Weezer covers together in middle school. Pretty soon, Jack started playing with us and we started making our own music. We went through about nine name changes, everyone except for Adam quit the band at some point, and eventually we decided on Hello Lefty and started playing shows more seriously. After about a year and a half as Hello Lefty, Ryan (formerly of The Company) joined the band. After years of mining, we've finally found a ROCK.
LL-Now I can remember when you were just a new bunch of guys with a funny name...c'mon, tell us the name story again.
HL - Our friend Craig was in a terrifying B-Ball accident just before we began trying to decide on a name. He was hip-checked and suffered quite the tangle. He had to get a jewel removed, and upon discussing these events, the name Hello Lefty sprang into existence.
LL-Ok so now here we are a couple of years later, you guys have a rabid youthful following, a couple of Choice Awards, how have you guys managed to maintain such momentum while remaining so vastly different from anyone else in Augusta?
HL - Hello Lefty kind of started off sounding different already, but less controlled. We all knew we didn't want to play just one type of music; we wanted each song to be different. Each of us plays in a different style, and each of our styles gets thrown together and eventually grows into something we like. It's hard to explain. It just happens.
LL-So you guys used to be the new guys, now your practically vets, who are the new guys coming up that you feel have what it takes to build the type of following that Hello lefty has built?
HL - Down with Delilah is a younger group that we're friends with. They are all cool guys that will make an impression here as they play more.
LL-So like we mentioned before, you guys are different than just about anyone else on the Augusta music scene. What kind of influences went into making this Hello Lefty sound?
HL - Surf-rock, hair metal, keyboards, dragons, superpowers, law & order, action, young love.
LL-OK, so I know I rib on Pete being cute and all, but seriously, who do all the chicks out there scream for the most in Hello Lefty?
HL - Michael, I mean seriously, have you seen him.
LL-OK, now that we've had our fun. You guys have created some great tunes. Fun, entertaining, great for the live setting. When is Augusta gonna get some new stuff from Hello Lefty on CD?
HL - Soon, hopefully. We're finishing up some recordings, and starting on some that we'll do on our own. We'll have all of the material we don't already have recorded on a disk, hopefully to be released at the end of this summer.
LL-Out of all the Hello Lefty tunes, which one do you guys feel is the signature Hello Lefty song?
HL - We'd probably say Blank Eyes, because it captures our sound pretty well - it's high energy, dancy, and has a mix of synth and surf rock. Thats the one our audience tends to move the most to.
LL-So how have the bands goals changed from the beginning to now in 2007?
HL - We started off just trying to play a lot around Augusta, starting with the Hangnail and moving on to Sector 7G, and moved to expanding our horizons. We've played a lot of the venues here, but now we're focused on getting our name around outside of Augusta, and going on tour this summer. We're going to be in Athens next year, so we'll be basing everything out there soon.
LL-Any chance you guys might take the show on the road before then?
HL - We've started work scheduling some short, weekend tours and are working towards going on about a two-week tour over the summer.
LL-Well guys, it's been a pleasure?
HL - Hasn't it?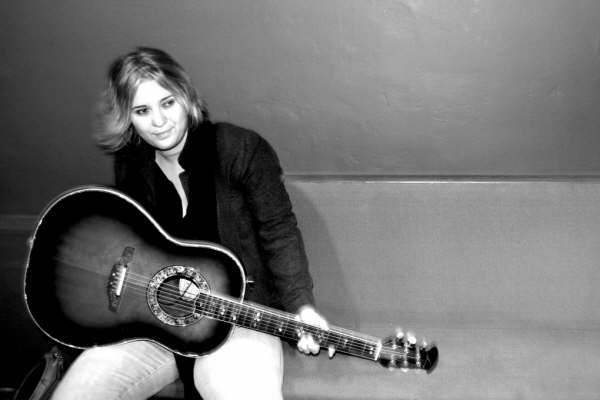 ALLISON FOSTER
She has been praised by the likes of Big Al Beasley and American Skin's Bryan Panowich. Her songs are sometimes felt in the most gutteral of places. She's the furthest thing from an Augusta pop diva. Allison Foster is a rock chick through and through. Just ask any of the guys.
With just enough sass to toughen up the girls and the right amount of heart to soften up the guys, Augusta's Allison Foster has arrived to chip a new notch in the belt of Augusta female musical history!
LL-First off, you just seemed to drop out of nowhere last year, who exactly is this acoustic gal rocker known as Allison Foster?
AF-Wellllll im just me. I'm not sure if there is anyway to pin point the whole essence of Allison Foster [laughing]. Listen to the words in my songs and you'll get a pretty good idea.
LL-So who and what drove you to get into this singer-songwriter biz?
AF-Life. It's the craziest thing sometimes ! The good, the bad, the in between; that's what drives me to write.
LL-On the other hand, what did you ENJOY most about being away from home?
AF-So know that you've done it for a while, whatcha like best about about the world of the singer-songwriter?
AF-The free beer! [Laughing] I'm joking! I love the fact that I get to meet incredible musicians. Augusta is filled with them I learn so much from them.
LL-Singer-Songwriters in the area have been known to move away, try other area. People like Steven Jackson, Tara Scheyer, and even Josh Pierce. Any plans on ditchin' us Augusta folks anytime soon?
AF-I have no plans on leaving, but who knows where i will be 10 years from now. I've lived in Atlanta before and I ended up coming back. I love it here. Augusta will always be my home.
LL-What about just gigging out of town anytime soon?
AF-I'm working on something in Atlanta, and hopefully I'll luck up. and maybe even find somewhere in Athens. I would like to venture out a lil bit. no worries though Augusta is still my home
LL-So decribe the ultimate gig.
AF-opening for Ani Difranco and Melissa Etheridge!!!!!! I would freak out!
LL-There are a few, maybe not a ton, but a few women performers here in Augusta. What makes Allison Foster different than the rest of them?
AF-[Laughing] It's the hair! nah I think its my voice. It's kinda different, and I'd like to think my style of writing and playing as well. I just want to convey how I felt at the time of writing the song to the audience. I have a lot of emotion in my music
LL-Now I know you've been asked, and we're gonna ask as well, cuz Big Al (Beasley) REALLY wants to know, when is Augusta gonna get a new Allison Foster CD?
AF-Soon!! I talked to Mr. Rob Boggs a few days ago. Hopefully I will be in the studio again sometime in april.
LL-And when we get this new platter, what can we expect?
AF-There will be some new stuff as well as old. I am planning on getting some people to play behind me add some drums. Stuff like that. I have a little more control over my voice since the last time I recorded so I am going to concentrate more on my pitches this time around.
LL-Any duets?
AF-Not on my cd, I did practice a song with American Skin last year unfortunatley we were not given the oppertunity to show it to the world. It's cool the world wasn't ready biatches! [Laughing] I am up for anything musically, so if I had offers sure, why not.
LL-Sorry, just funnin ya...but seriously, any duets? Sorry! Any parting words or shots for the Augusta peeps before ya go?
AF-Yes. To all my guys that are working hard playing the music every weekend, keep it up I love it! There are some kick ass bands here in Augusta and I am really glad I can be apart of the music here! Am Skin, Josh, Dave, Mr. Al : Thank you for all of your support! You guys rock my world! And Stoney thank you so much for helping the LOKAL music scence to be what it is. You are amazing. muah
LL-Thanks Allison!
AF-No problem! Thanks for having me =0)

NICK MITCHAM OF SAUSAGE FEST
LL-So what is the purpose behind SausageFest?
NM-Well, In my line of work I pay bands who I think will draw enough people to pay for itself. In a lot of cases I dont come near it. So on these shows we have these local bands that play / promote and walk away unpaid. Last year I got to thinking about ways I could make it up to these bands that were helping me out with my job. So I came up with this contest of Sausage Fest where the band that promotes the show the most wins a cash prize.
LL-Why the unusual name? Does it mean anything?
NM-The name is derived from a inside joke between me and some friends, haha.
LL-Who will be appearing at this years SausageFest?
NM-Well, we have a whole new lineup for this year, 15 bands versus last years 10 bands. SINKING, BULL DURHAM, GLASS BOTTOM BOAT , HELLO LEFTY, BRAINFREEZE, WHERE IT ENDS, DONT KILL THE FRESHMEN, AGNES, MEET MY CREW,A ROUGH SKETCH, PURSUIT OF ANGELS, DECIDE YOUR FINAL DAY, THE STRANGE VIEW,CAROLINA CASEY, H803.
LL-So Nick, what other events have you done? Who exactly is Nick Mitcham?
NM-haha. Well to be honest, I'm just a kid like all these other kids. I just can't play a guitar haha. I'm a music fanatic, anything to do with music I get into. I've done alot of shows over the past few years. I did "Independence Fest" a few years back. I've done both "Sausage Fest's," I did the "Job For A Cowboy," show and also did the popular "Riverboat Gamblers/Veara" show. I've dealt with a lot of bigger bands, that can be seen on my myspace [myspace.com/jams] there is a blog there with all the bigger ands I've booked.
LL-Will there be any activities other than bands playing?
NM-That may be something we look to do in the future, for now, all we're having is concessions, and bands playing.
LL-This is in a way, if I understand it correctly, a sort of battle of the bands...are there any spoils for the victor(s)?
NM-yeah, there are 3 cash prizes given to the top 3 bands. 1-500$, 2-200$, 3-100$.
LL-And finally, are there any plans for say, a BurgerFest or maybe Fowl Fest to go along with SausageFest?
NM-haha. I wish. There are plans for another fest or two this year. "Schools Out Show," is also going to be a local bands based show similar to Sausage Fest. But it will be for one of the first Saturday's that everyone is out of school.