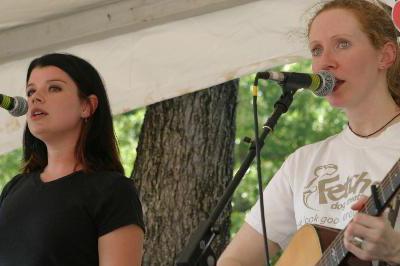 TARA SCHEYER
As part of celebrating Mother's Day Lokal Loudness has decided to talk to some "Mommy Rockers" on the Augusta Music scene. Despite a busy schedule with running a business and household Tara Scheyer, onetime frontwomen of Snapdragon and the Half Shirt Leroys, took the time to answer a few questions.
LL-So what have you been up to lately? Anything musical?
TS-We put out the kid's record, "HiFi Felix volume 1" last November and it's been doing really well. We're playing lots of day gigs to promote it. Dance Augusta's Peter Powlus choreographed a dance to a song of mine, "Rockin with you" and I played it live while the dancers danced all around me. I've never done anything like that before! It was on the stage at the Imperial. Ronnie Hill and Dewayne Wilson played with me. That was April 19. I'm also playing on a Moonlight Music Cruise with Augusta Canal for the first time- Fri May 11.
LL-What would you say has been the biggest difference between your pre-mommy days and now being a mommy.
TS-Tons of differences! I always said things wouldn't change, and although I haven't really consciously TRIED to change things, everything has. It's very organic, though, and each stage we go through feels like we're in exactly the right place. As I look back, I can tell the path has really deviated from my original intentions, BUT when I'm in it, it just seems like I'm chugging along as usual. It's kind of like I'm not really in control, anymore. Which is such a nice break from always being such a control freak. I'm really learning how to relax and just see what happens next.
LL-Has being a parent changed the way you look at or write and peform music?
TS-Oh yes. I never really wrote for my audience before. I just phrased things the way I wanted to and if somebody didn't like it or was offended by it, it didn't really matter to me. Now, it's always in the back of my mind that my child my hear this someday, and I want to make sure I'm clear and fair and, well, nice, about the way I say things. Not that any of my old stuff ever needed much censoring, but I definately feel a stronger responsibility to my listeners, now. Performing, um, I don't do much of that anymore. I could, but I just prefer to stay home. Since we put the kid's record out last year, most of my shows have been to pre-teen, afternoon crowds in the library or museum. So you could say my average venue has changed COMPLETELY!.
LL-What would you say to your son if somewhere down the road he develops a desire to become a musician?
TS-We let him play all our instruments, and encourage any interests he has in music. He's been putting on little concerts for us for over a year now. Ever since we first put him in the studio before he even turned 1 (to sing on HiFi Felix), he loves it. If he ever comes to me and says he wants to be a rock star, or whatever, I'll just tell him between me and his dad, we've got tons of contacts for him - with my Nashville years and Kevin's Columbia years we could really hook him up.
LL-Did your own parents have any musical tendencies?
TS-Yes, me and my parents all played (piano, trumpet, and violin) in school and church. My family reunions in Mississippi are still all about pulling out the fiddles and singing hymns all together. My Grandaddy used to take me to Gospel Sings before I could walk.
LL-Back in the day when you were touring and recording with Snapdragon did you ever think about one day settling down and becoming a parent? If so, what did you think?
TS- thought it would never happen. I got a little round moon tattoo on my stomach just to prove to my friends (and myself) that I didn't ever want to be pregnant. You should have seen that huge, stretched out moon when I was 9 months. It would really crack me up.
LL-You are actually married to a musician as well which seems to not be odd for most of the married female musicians in Augusta. Do you think this is an Augusta thing or the norm for married female musicians?
TS-Oh, I don't know about any norms. I just feel so lucky that it worked out that way for me. From the time I was really little and watched Sonny & Cher, I always wanted to be in a band with my husband. It's awesome to share something you love so much with someone you love so much.
LL-Do you ever play kiddy songs for your children? If so what?
TS-Since we're doing lots of kid shows these days, Felix has to sit through a good bit of rehearsing just around the house. He usually knows all the songs by the time the show comes along. He's actually pretty good about stirring up the crowd. He'll be running around up front singing "Hokey Pokey" or whatever, and pulling the little 2-yr-old girls up to dance. He's already got game.
LL-Any advice for women wanting to try and balance music and family life?
TS-I've got no clue what I'm doing. I'm just so grateful to get through each day without causing too much damage (so far!) to me, my husband, or my son. We always sit together, all three of us, at the end of each day, and talk, tell stories, read a book, sing songs. When I get to that point, and we tell him goodnight and turn out the light, then I can exhale, and reflect, and be thankful. Whatever happened that day- good or bad- just washes away with his sweet innocence. Every day- good or bad- ends with me thinking, "man! that was a good day!".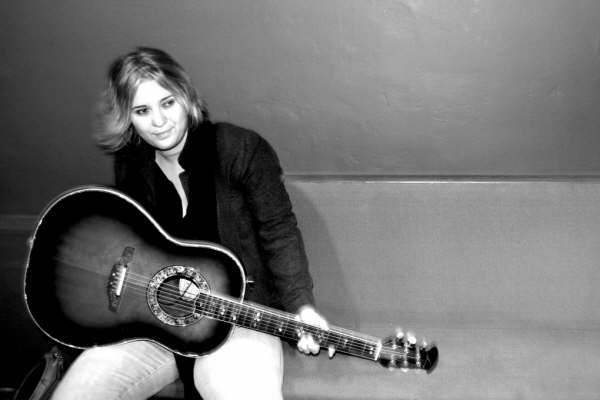 ALLISON FOSTER
She has been praised by the likes of Big Al Beasley and American Skin's Bryan Panowich. Her songs are sometimes felt in the most gutteral of places. She's the furthest thing from an Augusta pop diva. Allison Foster is a rock chick through and through. Just ask any of the guys.
With just enough sass to toughen up the girls and the right amount of heart to soften up the guys, Augusta's Allison Foster has arrived to chip a new notch in the belt of Augusta female musical history!
LL-First off, you just seemed to drop out of nowhere last year, who exactly is this acoustic gal rocker known as Allison Foster?
AF-Wellllll im just me. I'm not sure if there is anyway to pin point the whole essence of Allison Foster [laughing]. Listen to the words in my songs and you'll get a pretty good idea.
LL-So who and what drove you to get into this singer-songwriter biz?
AF-Life. It's the craziest thing sometimes ! The good, the bad, the in between; that's what drives me to write.
LL-On the other hand, what did you ENJOY most about being away from home?
AF-So know that you've done it for a while, whatcha like best about about the world of the singer-songwriter?
AF-The free beer! [Laughing] I'm joking! I love the fact that I get to meet incredible musicians. Augusta is filled with them I learn so much from them.
LL-Singer-Songwriters in the area have been known to move away, try other area. People like Steven Jackson, Tara Scheyer, and even Josh Pierce. Any plans on ditchin' us Augusta folks anytime soon?
AF-I have no plans on leaving, but who knows where i will be 10 years from now. I've lived in Atlanta before and I ended up coming back. I love it here. Augusta will always be my home.
LL-What about just gigging out of town anytime soon?
AF-I'm working on something in Atlanta, and hopefully I'll luck up. and maybe even find somewhere in Athens. I would like to venture out a lil bit. no worries though Augusta is still my home
LL-So decribe the ultimate gig.
AF-opening for Ani Difranco and Melissa Etheridge!!!!!! I would freak out!
LL-There are a few, maybe not a ton, but a few women performers here in Augusta. What makes Allison Foster different than the rest of them?
AF-[Laughing] It's the hair! nah I think its my voice. It's kinda different, and I'd like to think my style of writing and playing as well. I just want to convey how I felt at the time of writing the song to the audience. I have a lot of emotion in my music
LL-Now I know you've been asked, and we're gonna ask as well, cuz Big Al (Beasley) REALLY wants to know, when is Augusta gonna get a new Allison Foster CD?
AF-Soon!! I talked to Mr. Rob Boggs a few days ago. Hopefully I will be in the studio again sometime in april.
LL-And when we get this new platter, what can we expect?
AF-There will be some new stuff as well as old. I am planning on getting some people to play behind me add some drums. Stuff like that. I have a little more control over my voice since the last time I recorded so I am going to concentrate more on my pitches this time around.
LL-Any duets?
AF-Not on my cd, I did practice a song with American Skin last year unfortunatley we were not given the oppertunity to show it to the world. It's cool the world wasn't ready biatches! [Laughing] I am up for anything musically, so if I had offers sure, why not.
LL-Sorry, just funnin ya...but seriously, any duets? Sorry! Any parting words or shots for the Augusta peeps before ya go?
AF-Yes. To all my guys that are working hard playing the music every weekend, keep it up I love it! There are some kick ass bands here in Augusta and I am really glad I can be apart of the music here! Am Skin, Josh, Dave, Mr. Al : Thank you for all of your support! You guys rock my world! And Stoney thank you so much for helping the LOKAL music scence to be what it is. You are amazing. muah
LL-Thanks Allison!
AF-No problem! Thanks for having me =0)