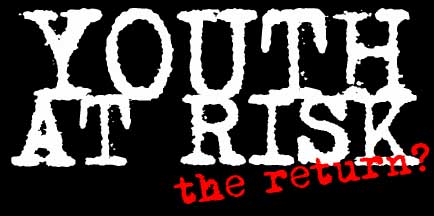 YOUTH AT RISK - the Return? - Kimberly James 06/13/06
Youth@Risk is a band that has been around for quite some time. Some remember the antics of the guys, but others, like me, have only heard of them. Today I got a chance to finally hear Youth@Risk for myself for the first time in a reunion show that they played at Big City Music. I have to say, despite the technical difficulties, including a spontaneously combusting speaker, I was really impressed with the music. After their set I got a chance to sit down with Chuck Merritt, Larry Sprowls, Justin Smith and Jonathan Cook, aka Goo, and talk with them about this reunion and the much awaited final goodbye show that is yet to be scheduled.
LL – Y@R hasn't been around in a while. Give us some history on the band.
CM - We started in 1997 and the first gig we played was Justin's high school graduation. We also played like 100 shows at the Martinez Community Center.
JC - We played every weekend for years. Our last show was about 3 years ago.
LL – It's been a long time since the band has gotten together to do a show. How does it feel to be playing with these guys again?
CM - HOT!!!
JC - Splendid.
JS - Fun but nerve wracking
LL – No one thought Youth@Risk would ever share a stage again. What prompted the reunion and the final show the band is putting together?
CM - Everyone thought we hated each other and we wanted to show them that wasn't true. People saying it'll never happen motivated me to want to prove them wrong.
JC - Well we never really did a final show. We just sorta faded out. So we wanted to come back and do just one last goodbye show.
LL – We've seen some of you in other bands over the years. What has everyone been doing since the last y@r show?
JS - Absolutely nothing…sitting on my couch.
JC - Finishing school and right now I have a couple of other things going on. An acoustic thing with me and another guy and a band called Nine Day Descent.
CM - Playing with The Sixth Hour and Larry is in Chairleg.
LL – For those of us who have never heard y@r or are hearing the band for the first time, can you describe the sound?
CM - Alternate…grundge, maybe a little hip hop in the lyrics JS - punkish…we don't really know…
LL – The word is that the band originally split because of tension among the members. Is that true and how are you getting along now?
JS - We get along fine now.
CM - Anytime there are a group of people who are friends there will be some issues that arise.
LS - That's absolutely why we faded out. Everyone was getting burnt out from playing so much and we were just starting to move on to other things. We decided to do this because we never got a chance to say goodbye and everyone missed playing together.
LL – On that note, is there any talk of keeping the band together beyond the "final" show?
CM - This is The End. There will not be 50 final shows like Black Sabbath or Kiss.
LL – What are you looking forward to most about the big show?
JS - Seeing old faces.
LS - Its just fun. We all love this.
LL – When the band started out were there any national acts that influenced the band's sound?
LS - Everyone came from different musical backgrounds, from gospel to hardcore.
CM - I was into New Kids on The Block.
JS - I was really into Menudo.
LL- This one is for Chuck. Inquiring minds want to know. Is the Holey Sweater making a comeback?
CM - Oh, I don't know. I guess it depends on how hot it is.
JS - The Adidas pants almost made a comeback today.
LL – One final and very important question…Is Mr. Peanut sexy?
CM - It COULD be a chick!
JS - Yes. I think it's the cane.
JC - There's just something about that monocle.
LS - *walks away*
CM - I think he's hiding a secret attraction for Mr. Peanut.
LL – Thanks guys!
Y@R- Thank you!