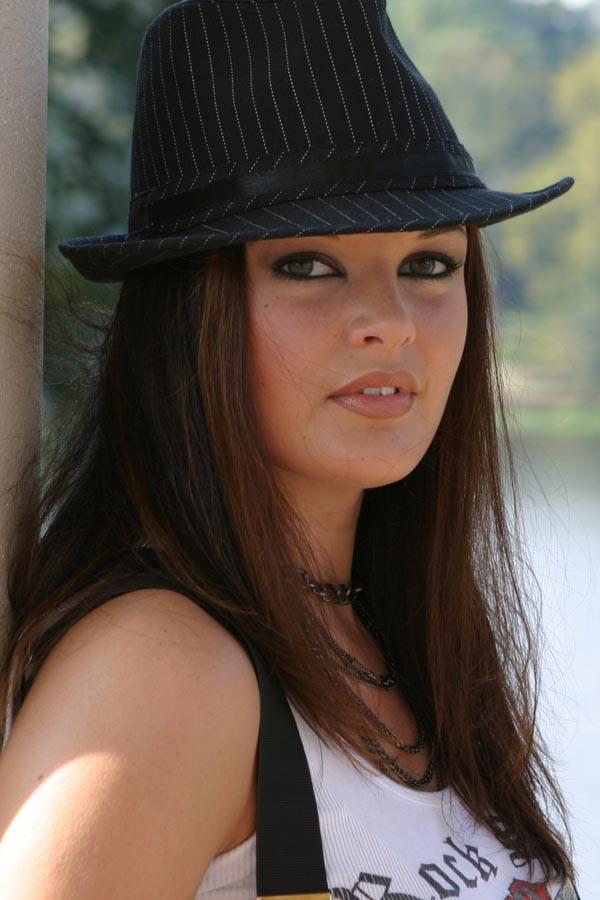 Photo by Jeff Miles
DANA ANDREWS - Rockstar: Augusta - Stoney 010/14/06
So maybe you hadn't heard of singer Dana Andrews before her national appearance on Rockstar: Supernova. Perhaps when you saw the dark haired beauty on TV belting out ass-kicking rock & roll you were surprised to see the words "Augusta, Georgia" beneath her name. And maybe, just maybe you figured the young lady on TV just appeared out of nowhere, the reciepient of some lucky break. Well guess again. Dana Andrews may be young but she is no rookie to the world of music. And if you think she fell into that top-rated reality show, well...wrong again..
LL – Being a performer from Augusta, Georgia did it surprise you that many of your fellow Augusta musicians first learned about you from your Rockstar: Supernova exposure.
DA - No, I expected it. My band had just formed when I started the show, so there wasn't any local history of us.
LL – So I've noticed from your online presence that you seem to be more musically involved in Columbia, SC than Augusta. Any particular reason for that?
DA – My band Everything After is based out of Columbia, SC but I promise we'll travel!!
LL – So how did a talented girl from lil' ol' Augusta Georgia find her way on a huge show like Rockstar: Supernova?
DA – I know! It's so crazy! A drummer I know, Derek Tesch, told me about the show last year and I kept an eye out for a second season. I auditioned in ATL and waited... and waited.... until they let me know the good news!! Flew out to LA for the top 50 and nailed that audition too!! Woo hooo!!
LL – A ton of people feel that you were incredible on that show. Would you say you wanted to be on the show for personal career or exposure or to actually be the front person for Supernova?
DA – A ton? Really? Thanks! Well, I have to say both. I dream really big, so even if I fall short, I've accomplished a great deal. And come on, who wouldn't want to front a band with such an awesome repertoire.
LL – What would you say were the hardest and easiest parts about your experience on the show?
DA – The hardest part was the pressure. Every performance, you stepped up to be judged in front of 20 million people, so it's difficult to subject yourself to that kind of criticism. That, and summing your entire stage persona into less than 2 minutes. The easiest part was soaking it all up!! What an adventure!
LL – And which would you feel was your best or favorite performance?
DA – Hmm... You are always your toughest critic, so my favorite performances would be "High Road Easy" and "About A Girl". They flowed very naturally and I feel like I was able to show more of "ME".
LL – You said on the show, "I'll show you Gilby Clarke". Do you feel you did in fact "show him"?
DA – Hell yeah!! Take that!! I remember hitting my knees, in a skirt nonetheless, during my elimination song. And as the crowd went wild, I lifted my head up and pointed right at him!! Ha!!
LL – Who ended up being your favorite Supernova member? Contestant?
DA - Jason Newstead was so articulate and professional. I really gained a lot of repect for him. And Dilana and Storm were the best ladies in the world!! I miss them all though.
LL – So how did it feel to get back home after your experience on Rockstar: Supernova?
DA – It was wild! The place is the same, the people are the same, but things for me, are different. Being away from your home town sparks more appreciation for it. And finding this much support is amazing, so thank you.
LL – What was the first thing you wanted to do once you got home?
DA – Sweet tea!! Ha ha. I just wanted to drink my mom's sweet tea.
LL – So I notice that you have a show coming up here in Augusta soon. Are you excited about playing for the hometown crowd?
DA – Yeah!! I feel like I owe everyone a show for the abundant amount of support I've received. I'm stepping in with a cover band, Hot Company, to get it done for the moment. I hope everyone has as much fun as I will!! Can't wait to do original music with MY guys too!
LL – So aside from the show, what other projects do you have in the works?
DA - I'm working on a 100% original show with my band, Everything After. Being that I left for Cali right after we got together, we are working from the ground up. It's a slow moving, but very rewarding process. I promise that we'll be playing Augusta as soon as we're ready!
LL – For those out there still getting to know you, can you sum up Dana Andrews in less than twenty words?
DA – I like to have fun, dream big, and stay positive no matter what get's thrown at you in life!
LL – Will Augusta be seeing more of you now or will you be mainly concentrating on getting your music more outside of the region?
DA – I'm shooting for a show locally in December. I'd rather take our time and knock your sweet lil' socks off than take it out of the oven too soon. Then, I plan to conquer the world! Mwuah ha ha!!
LL – Any plans on catching Supernova live when they pass through the south?
DA – That'd be pretty cool if our schedules allow it!! I'd love to see everyone again!!
LL – Anything you want to say to any of your fans here in the CSRA?
DA – Thank you for watching and supporting me! It's far from over!!
LL – Awesome Dana, thank you so much for taking time to share some info!
DA - You guys are great! Keep rockin'!
Dana Andrews will be appearing October 21st @ Surry Tavern
For more infocheck out the Dana Andrews Myspace Page