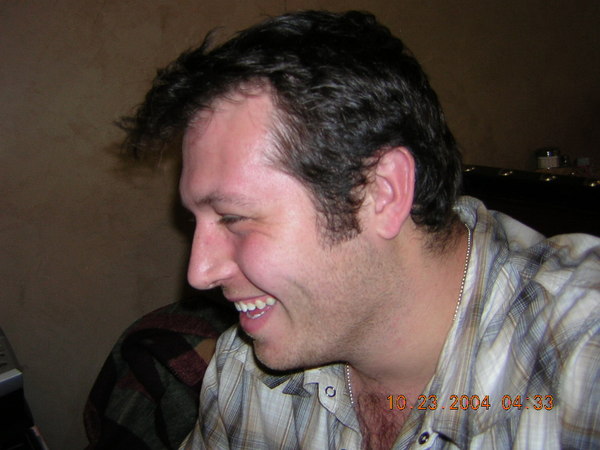 JOSH PIERCE - The Incomparable Soul - Stoney 010/15/06
From the moment I met Josh Pierce, I have been fortunate to consider myself one of the singer-songwriter's closest admirers. Whether first attracted to Pierce's infectious personality or initially to his catchy songs, one cannot help but to appreciate the total package known simply as, "the Incomparable Soul".
LL – So Josh, you left Augusta for a while. What brought you back to the CSRA.
JP – Well a change of scenery was necessary I think….just some time away with family and great learning experience…new scene to put things into perspective.
LL – So since you've been back you've been relatively quiet. Are you slowly building Augusta up for something big?
JP – well…to be honest, I have just been playing cover gigs. When I put on a show, I insist that it be an event…something that's going to draw as much attention as possible and be overly entertaining…(crosses fingers)
LL – So tell us about this upcoming CD release. What kind of CD will it be and how did it all come together?
JP – I've always thought my best place is onstage….a live performance was always something I wanted to capture. This CD is a fantastic representation of the energy we put out onstage. A lot of humor, always moving, always changing…always up and ready for the next tune and the next joke…you know me brother. (smiles) We recorded it live at the Blue Horse (Music Hall) and I was just amazed at how well it turned out! So we decided to package it and put it out. We're going home for this one. The CD release is going to be at The Metro Coffeehouse at 11th and Broad street. That's the first place I ever played around here, so it just makes sense to have the first full release where it all started
LL – Now you've had several live shows recorded over the last few years. Why did you decide to release this one as opposed to any of the previous recordings?
JP –It's got great energy, a fantastic sound, we played to a phenominal audience that night and I was just really pleased about the entire work. A good strong set that really shows the listener what I think is a great representation of us onstage!
LL – So does the CD have all new Josh Pierce songs or will fans find any old favorites?
JP – A few old faves. Several new tunes, a lot of joking around with the audience, and a few surprises you won't really expect. (shhhh)
LL – You will be having your CD release at Metro, you seem excited to be having it there.
JP – Well like I said, back in the day when you and I were thick as thieves…this was the place that took a chance on me, had a little faith and it's where I feel most comfortable. They've always been very good to me…so it's only right that I return that favor as much as I can.
LL – So while you have returned to Augusta, a lot of your promotion and management is based out of Memphis and Atlanta. Any reason for this?
JP – I'm from the Memphis area originally and I have a lot of old friends there, and family in Atlanta, so moving around helped me create some good connections and vital contacts in those areas. I'm not playing stadiums but I am able to get in the door in some places I probably wouldn't if I didn't have life long friends watching my back.
LL – Your latest promotions contain the line: "incomparable soul". What exactly does that mean?
JP – Like any musician, we're faced with that question: "What do you sound like?" I really just wanted to find a phrase that put my music into perspective….an old friend said once "you can't compare it to anything, Dave Matthews, John Mayer, it just doesn't sound like anything you've heard before. So I ran with it. I realize that a lot of what I do is engrained in soul and blues and it makes sense. Give people a hundred percent of what you do, and it will stick. It started with a poster…a one time idea…that just grew. Now I hear it a lot around the area. "oh you're the incomparable soul guy!" But with a catch phrase like that I'd better deliver right!
LL – It is obvious through hearing you that you put a lot of heart and soul into your music. What drives you more, creating the music, or sharing the finished product with an audience?
JP – It's a very mixed bag. Writing is such a huge release for me. Very cleansing to say the least. But performing is a lot like therapy too. And there's nothing better than having someone tell me something I wrote helped them through something big. So I suppose the writing is more for myself and the performing is for both of us. The audience and I.
LL – OK, so people who know you in Augusta, know that as well as being a great singer-songwriter and performer, you are pretty damn good at storytelling as well. Any unique tale you can tell us about something that has happened since you've been on the Augusta scene?
JP – Well actually I have a great story from Athens:
Alright ladies and gentleman, sit back and you'll hear a tale of a fateful night where a room full of listeners did unwillingly witness an awfully white half naked sight. This gentleman invited me to share a slot with him at DT's DownUnder (I will not name any names). I said that I would join him and play an hour or so to help him because he told me he didn't have enough material for two whole hours. So I got to DT's on that Saturday night and the place was packed. Cinjed was playing and everyone was there for them. If you don't know, Cinjed is an excellent hardcore band. Needless to say, I was curious as to why Jason had scheduled me AFTER a hardcore band. I went up to the bar and asked "so Jason.......you want me to follow this?" He said yes and I said: "Well.......give me a drink or two!" Anyway, this gentleman and I flipped a coin to see who would go first....he won(or lost) the toss and went first. He was dressed to the nine in a pair of kakis and a polo shirt. He seemed semi sober and in good spirits. He plugged in and I went to get another drink. I turned around to see him undressing and he began to play half naked. I thought : "Wow he's got guts" Well after a little bit, the crowd wasn't feeling it, and began to boo him. I felt bad, but Jason said "I'm not losing money to this guy" because the bar began to clear out. He went up to the naked man and tried to get him offstage. Right then, the gentleman finished a song, grabbed my microphone and went and locked himself in the bathroom adjacent to the stage..... With guitar in hand and my microphone, he made a few weird noises and we unplugged him. He came out a minute later with his arms raised in VICTORY. He then proceeded to hand me a hundred dollar bill and told me "You Win". I tried to explain to him that I didn't want his money but he refused to take it, so I pocketed it. I got onstage soon afterward and everybody was feeling pretty good, I played some upbeat stuff and people were dancing and having a good time. But this will go down as THE STRANGEST show I've played in 17 years.
LL – Any particular artist you'd love to perform with? Why?
JP – There are so many wow.I got to play with Shawn Mullins…that was cool. I wanna play with Huey Lewis and the News!
LL – I know you use the "incomparable soul" tag but if you only had one word to describe Josh Pierce, what would that word be?
JP – I'm "just josh"!
LL – Any parting words for the readers out there?
JP – As long as you realize that you are less than you could be, you will always become more than you are.
LL – Josh, thanks once again for sharing with us?
JP – Absolutely Stoney, let's make it a night to remember Oct. 26th Metro Coffeehouse…Live CD Release!!
Josh Pierce will be appearing October 26st @ Metro a Coffee House and Pub
For more infocheck out the Josh Pierce Myspace Page