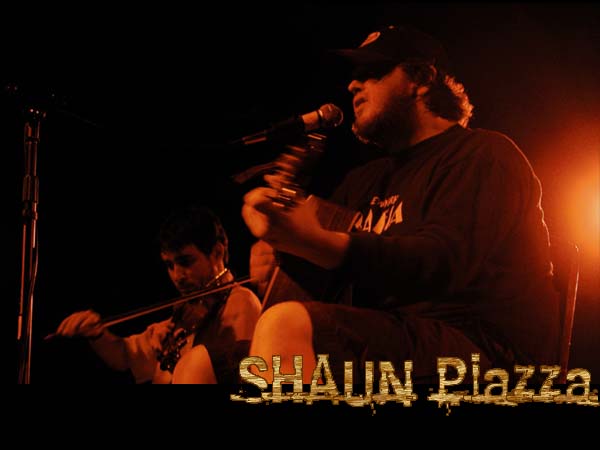 WORDS & MUSIC WITH SHAUN PIAZZA - Stoney 9/7/04
Normally an artists debut release is their introduction to a world they hope to conquer but in SHAUN PIAZZA's case, a debut disc was a long-awaited present for those who over the past year and a half have become enamored by the performances of this still up and coming singer-songwriter. In the year and a half leading up to his first cd Mr. Piazza has captured the heart, minds and souls of area music lovers,been voted favorite lokal solo artist and now is poised to appear on a second consecutive 12 Bands of Christmas CD.
LL - You've played with this incarnation of the SHAUN PIAZZA BAND nearly a year and a half. Why did it take you so long to release any recorded material?
SP - I wanted to make sure it felt right. I wanted to take my time and get it out right. I that's something I feel that I didn't have the patience to do in the beginning.
LL - Did people coming up to you and asking for a release factor at all into the timing of the release?
SP - No, because the people around me made me want to wait until the right time. I wanted a full ten song release instead of an EP or a single. It needed time to let the lyrics come from playing and feeling it for a year.
LL - Are any of the tracks on the cd from the recordings that you did at the Soul Bar a while back?
SP - Mostly the same music but different recording and recording location. The Sould Bar recording experience was cool but the music wasn't ready to be put down. When the music was right we entered an actual studio but still aimed for a similar live, not over-produced feel!
LL - Any method to the order or flow of the songs on the cd?
SP - That's where Eric (Kinlaw - bass, keys & guitar), Henry (Wynn - violin, mandolin & banjo), Jayson (Rubio - drums) and Coco (Rubio) came in. In the end Jayson just spit out a sequence and it all just kinda worked.
LL - Any song on the cd that you consider to be quintessential Shaun Piazza?
SP - It's weird to listen to the cd but right now I'm relating the most to "Blue" which I get was getting tired of but somehow that changed as we recorded it.
LL - Any common themes present in your songs or even just on the cd?
SP - I just write about relationships. That's pretty much it. things I've gone through, am going through. Just being honest with myself and my music.
LL - You're considered a "singer-songwriter" so how much does the rest of the band factor into the creation of your songs?
SP - Totally! mood and feeling is what Henry does to the songs. He doesn't look to wail, just waiting for the right moment to come in. Same with Eric and Jayson. The music would not be the same with anyone else. The fit is right. Besides, they've been playing together a while so it tends to be easier for everyone.
LL - Describe your music?
SP - Country - folk - alternative, rock. Country but it's not. Southern rock but NOT southern rock.
LL - So, did your recent cd release party live up to expectations?
SP - Actually it did. people I've never seen before were there. The crowd was so into every litle thing. Was definitely a great night.
LL - Do you feel that you've satisfied everyone who have been asking for a cd for so long?
SP - yeah, totally and more. Their pleasure makes me want to accomplish more and do my best. Everyone tells me that it's great. I wanted everyone to really like and not to just tell me that it's an o.k. cd. It's hard to be totally satusfied with sharing my music but I am as much as I can be with this release.
LL - Off the subject a sec. influences...
SP - Elvis, Beatles, Clapton, James Brown, Ryan Adam, Johnny Cash. Storyteller that didn't just make up stories but incorporated a part of themselves into them. Artist with sincere heart and emotion. I never want to lack the emotion and not have the heart.
LL - What been the hard part about being Shaun Piazza - musician.
SP - Just being honest. If I'm in a bad mood, trying not to let it affect a show but at the same time not trying to hide it or cover up with a false mask. Ultimately music is a healing art for me so I need for it to remain real.
LL - What are the future plans for promoting and supporting the cd.
SP - We will be sending press kits and cds to Atlanta and Athens then hitting those places really hard and seeing what kind of response we get. Now we have a product that we're proud of so we need to push it as much as it deserves until people either love it or stop listening.
LL - Any parting words for our surfers?
SP - Just hope people can relate to the cd and use it and gain from it. Life is not about holding grudges but about accepting changes and what you can accept yourself and the changes you make in life than you can deal with anything.