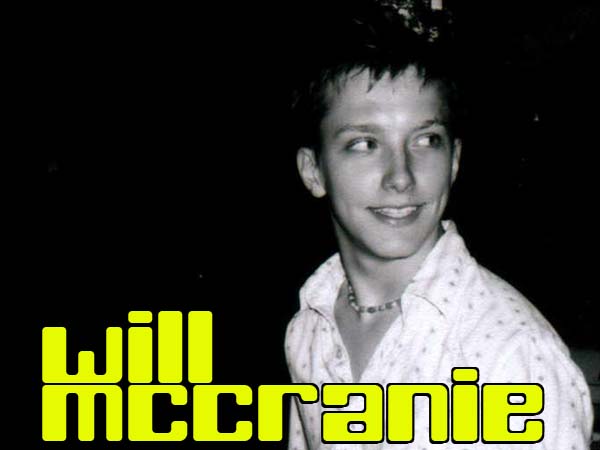 A CAFFEINATED DISCUSSION WITH WILL MCCRANIE - Stoney 11/4/04
Young yet musically open minded with chops to match, singer-songwriter WILL McCRANIE has seemingly been everywhere on the lokal music map as of late. Hitting the stage at such favorite area haunts as the Soul Bar, Fox's Lair and Metro, Will not only delivers as a solo acoustic artist but has also been rocking audiences with a full on trio made up of members of Mr. McCranie's other band PEDESTRIAN. On november 2nd he took the plunge full on with the release of "a Caffeinated Fiasco", a seven song affair which which is literally, all Will.
LL - First of congratulations on the new cd and a successful release party.
WM -thanks man! the show at metro was a blast... it was awesome to see that place packed out and to get to play my stuff with a full band.
LL - Your new cd is called "a caffeinated fiasco". Any special meaning behind the title?
WM - it's just a joke that I had about myself. I was drinking 6 or so cups of coffee a day around the time that I was recording the disc. the girl that the title track was written jokingly about used to complain that I drank too much coffee, so I decided if she could make fun of me then I could too.
LL - This new release officially came out november 2nd. How long was this cd "in the making" before it was finished and ready for release?
WM - there was a lot of planning before ever entering the studio back in june (between writing and testing the songs live), but the recording process was about a week of studio time spread out over the next 4 months... it was nice to have the time in between to do all of my critiques before going back in.
LL - Recording was done at the Jam Room in Columbia SC. Why did you choose the Jam Room and in the end, were you validated in your choice?
WM - Jam Room was one of the coolest experiences of my life... those guys know what they're doing and I think it shows. I was hesitant on the drive on the way up for the first session. I'd heard good things, but I'd never set foot in the place. so, I walked in and one of the first things that caught my attention was that Billy S. had several of his paintings hanging throughout the studio... I'm a big fan of his work, so it was kind of like having a friend in the room with me.
LL - Now I understand that you worked overtime to fund this project. What exactly did you do to gather the money to record and release "a caffeinated fiasco"?
WM - sold my soul!!!! no really, I just played a lot of gigs and I was working as a server... my family was also very supportive in helping me out when I fell short.
LL - What would you say is the average "age" of the songs on the cd?
WM -the cd spans from when I first started writing my junior year in high school up until even in the studio. It was a lot of fun getting to pick out my favorites for these sessions. I got to revisit some that i'd been dying to get a chance to really nail and to throw out some new stuff that people had never heard me do... "tragic fall of blue apples" was the first acoustic song I ever wrote about 4 years ago... that easy? Was one of the first as well, however, it had a complete overhaul before this session... "such a shame" has been on all of my previous demos and "city lights" as well was a second time around... the 3 remaining were written this year...
LL - Any common themes running through the cd?
WM - it's a pretty conversational ep. Everything on there stemmed from coffee talks... and I think most people could infer the rest... life, love, whathaveyou.
LL - This is more than just an acoustic solo cd. You play everything from guitars and bass to drums making it a true "solo" release but you still have a few quests on appear. Who else contributed to the album and why them in particular?
WM - Kelly Pedigo did an additional vocal part for "city lights"... he came up to the studio to hang out one day and he was sleeping on the couch for most of the time. I ended up kicking him and telling him to be useful and wing it on some backing vocals... we pieced the stuff we liked back together and the rest is history... we've played together a lot and he's a good friend so it's really cool to have him on the disc with me.
LL - Which track could best be described as the most typical Will McCranie style track?
WM - "that easy?" would probably be the best description to try and place me in a genre... its sorta jam band, sorta pop singer/songwriter... its a fun track.
LL - Is that also your favorite song on the cd?
WM - "not enough"... I finished it in the studio. It was the fastest written song on the ep. I spent about 30minutes writing it and I finished the vocal arrangement on the spot, which is why it has a very "live" feel to it.
LL - Going back a little, what initially prompted you to pick up the guitar and at what point did you decide that you wanted to be a singer-songwriter?
WM - I saw the video for Lenny Kravitz's "are you gonna go my way" and fell in love with the guitar... I found that to be soooooo cool when I was like 12 or 13. The singer-songwriter thing really came about when I found that I didn't like the way other people were singing my songs and that it was much easier to only have to worry about yourself showing up to play or practicing, so it kind of happened by accident. I didn't know i'd stick with it until Brandon Bower from the Big Mighty really started pushing me to keep on singing and keep on with my writing.
LL - What were your earlier bands like in comparison to Will McCranie singer-songwriter 2004?
WM - a lot heavier... I still love to rock out, but i've gotten into a lot of jazz. Miles Davis really taught me that you can be rockin', but slow down and say something at the same time, especially with soloing... I think my stuff has come a long way and I'm hoping it will continue to get better.
LL - What do you personally feel are the pros and cons of being a solo artists vs being in a band?
WM - only having to deal with yourself is a blessing, but I love playing with a full band because you can feed off of the other players... there's different levels of spontaneity in both. I can pull a complete 180 when i'm playing by myself, but it's a little trickier with a group. The guys in my band now (Pete Carol-drums and Alex Bruce-bass) are amazing players and I can always tell that they love to play. That raises my energy level so much... they just rock! I really wouldn't wanna play with anyone else.
LL - You've got a pretty unique style vocally and in many ways musically. What are some of the artists you draw inspiration from?
WM - I love me so Jack Johnson, Ben Harper, G.Love and Special Sauce... a lot of my guitar work really stems from groups like the Smashing Pumpkins, 311, Jane's Addiction. I do have the obvious influence for any acoustic artist of my generation in Dave Matthews band, but more of the improv stuff that I do comes from later Miles Davis and funk era Herbie Hancock records.
LL - How do you rate the studio aspect of being an musician in comparison to the live aspect?
WM - you have to be a lot more deliberate about everything that you leave on the recording, but you have time to second guess yourself. Recording always raises my game and helps it to improve on stage as well. I love paying live though, because anything can happen... songs start blending and no one really knows what'll happen next. Just don't worry about any ashlee simpson oooooops's coming from me:-)
LL - With a new cd under your belt, what's the next step for Will McCranie heading into 2005?
WM - I'm really looking to branch out to some other cities and get into some bigger venues. Athens is beginning to pick up on my stuff. I'm getting quite a few more returned phone calls since the cd is finished... mp3's are being spread through websites like www.myspace.com and such so things are going well. I'm planning on playing a good bit more... it's gonna be fun to ride it out and see what happens.
LL - Cool Will. Thanks for taking the time to rap with us and good luck with the new cd?
WM - nah, thank you guys for all the support! peace.