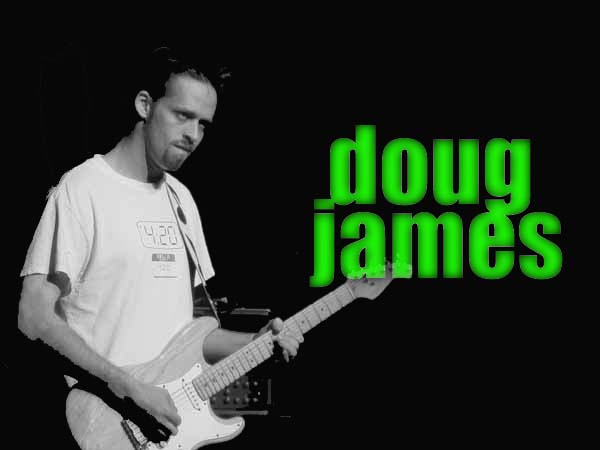 ONE LAST HIT WITH DOUG JAMES - Stoney 11/4/04
A little over six years ago I responded to an ad in the Metro Spirit for pa for what would be the Launch Party for Lokal Loudness online. Later on that day I met a recently transplanted Ohio native by the name of Doug James. Since that time Mr. James has been a very intrumental in the success of man a Lokal Loudness event whether it be providing sound, playing live or mixing mastering cds. His studio JameSound can be credited at least in part to many of the great lokal releases from the past few years and as part of the band 420 OUTBACK raised the bar of what a lokal band could be, and at times, should be. Now after making his mark in the Augusta scene, Doug prepares to leave his adopted home to return to his true hometown of Toledo, Ohio. Doug, gracious as always, answered some parting questions for Lokal Loudness..
LL - First off let me just say, and I think I can speak for the music freaks of Augusta, thank you for the last 6 years of your participation in the lokal music scene. We are definitely going to miss you.
DJ - It has always been a distinct honor to be a part of this music scene. There's so much talent in this town, magical things can happen as long as you keep on keepin on.
LL - Now you and your family (wife Ree and daughter Sarah) will be moving to Toledo, Ohio which is where you are originally from. Why the decision to move back?
DJ - It's something we've been discussing for quite a while now. Nothing against Augusta, but I can do a whole lot better for my family in Toledo. There's my family, which by the way, is huge. Sarah's got 6 more aunts and uncles and countless cousins that she hasn't even met yet. There is also many more opportunities to make some better money up there. So it's just better for me as well as my family.
LL - Before you moved to Augusta from Ohio, you were just starting to make your presence known on the Toledo scene, any immediate plans to jump back in and show the hometown what they've been missing for the past six years?
DJ - I'd be lying if I said I'd stop playing, but I have no immediate plans as far as bands go.
LL - What have you missed most about Toledo and what do you think you'll miss most about Augusta?
DJ - The thing I'll miss most about both cities is the people. It's staggering to think that in 6 years I could have met so many people that I consider to be good, life long friends. So make no mistake; Ree, Sarah, and I will be dropping in from time to time to check on everyone.
LL - Looking back at your time with 420 Outback, when did you first notice that the band was starting to make an impact lokally
DJ - I guess the first time was when we played the Amphitheater for the Garden City Music Festival, and afterward the Homegrown guys mentioned on air that they were impressed with our show, and we didn't even have to pester them for it or anything. Until that I hadn't realized that anyone was even paying attention.
LL - Did you ever expect that the band would build the following it did?
DJ - Nope. Never expected it, but I'm damn glad it did.
LL - What do you think it was about 420 Outback that made it special to so many people?
DJ - I think the fact that we included anyone and everyone who ever came to see us play into the 420 family. I also think that people could relate to what we were singing about. Good times, good beer, and good friends.
LL - CDXX will go down as one of the classic albums released in Augusta and from it songs like "Foggy" and "Hit" received quite a bit of play on Homegrown. How instrumental do you feel the bands following was in the amount of attention and airplay this album and it's songs got?
DJ - Homegrown helped a whole lot, but there was also the Spirit, the Chronicle, and of course Lokal Loudness that always kept our name on the mind of the public. The key is to cover ALL of the media outlets.
LL - Recording CDXX wasn't exactly a short easy process. What where some of the obstacles you encountered and how did it feel to finally get it finished and out to the public?
DJ - Obstacles, huh? Well, getting essential personnel to the studio always seemed to be a challenge. Then of course the aggrivation of thinking you have it all done, only to discover upon a test listen that there is still something wrong and then having to go back and DO IT AGAIN. Of course when it's all done it's probably the most relieving feeling ever (just like that post-Thanksgiving bowel-movement).
LL - In late 2002 the people spoke and 420 Outback pretty much owned the Choice awards show in february 2003. Were you surprised at how many awards you racked up and how much did it mean to the band to be recognized by the public so strongly?
DJ - Absolutely. It really warms your heart when the public recognizes you for the work that you do because while we were recording it, it never crossed our mind that "Oh, were gonna walk away with the Loudies next year". It's just something that we did because it's what we all wanted to do.
LL - Now at the time the projected outlook was that 420 Outback was going to release a follow-up and totally take over the Augusta music scene so it was surpring to many when the band broke up. Why the decision to split when the band had all that momentum?
DJ - When all of the parts of an engine are pushing together in one direction, a butt-load of momentum can be built up. However, if any part starts pushing in another direction, it doesn't take long before every part is going a different way, and before you know it all of your momentum is gone.
LL - When the band splintered into two great bands, Local Ghost and Knowface, was there ever a thought that one day 420 might get back together?
DJ - Not in my mind.
LL - Looking back, do you feel as if you accomplished what you wanted to musically in Augusta?
DJ - It's funny because it really doesn't feel like I've accomplished all that much, but then I sit down and start thinking about it, there's a whole lot that I have done here. So, I guess that I have accomplished some, but there's still a long road to travel.
LL - If you were to pick one special musical moment while you were in Augusta, what would it be?
DJ - I could pick a lot more than one, but it would probably be a tie from the Seven Mary Three show and the 12 Bands of X-mas show in 2002. Great crowds, great memories.
LL - How did this one - off 420 Outback show on November 26th come to be?
DJ - It was Gabe and Ryan's idea. They figured it would be a good time to have a going away party and do the 420 show all in one swoop
LL - What are you looking forward to the most about this show?
DJ - Getting Local Ghost, Knowface, Jemani, and 420 Outback together again, and the fact that instead of charging cover, we're going to ask that people bring either a canned food item for Golden Harvest Food Bank or an unwrapped toy for Toys for Tots. There'll be donation bins for each.
LL - Expecting it to be very emotional?
DJ - Naturally.
LL - Is this more a proper final farewell for the band or more a farewell for Doug James?
DJ - You can label it however you wish, but I think it's a little of both. Besides, I'll be coming back to Augusta every now and again and who's to say we won't do something like this again.
LL - Doug, thanks so much for not only this interview, but for giving Augusta not only some special music, but also the chance to share it with a special musician and person. Before you go, any parting words to the Augusta faithful?
DJ - Do what you love, love what you do. Never lose sight of the dream. You have the means in your possession to reach the promised land, wherever the hell that is. Thank you, Augusta for 6.5 years of my life that I will never forget. You gave me confidence, you gave me love, and you have given me my family. I just hope that along the way, I have given you even half as much as you have given me.