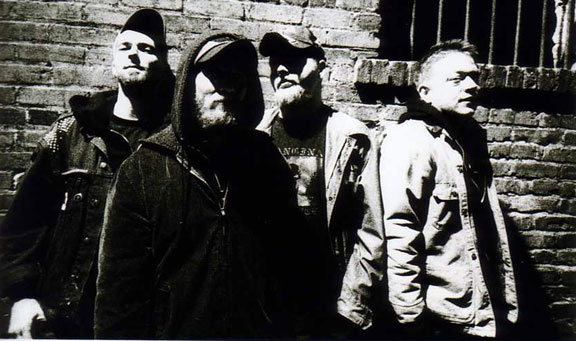 MUSIC HATES YOU...YOU'VE BEEN WARNED - Stoney 9/21/05
Augusta has experienced it's share of hard-hitting in your face bands. Whether within or visiting, Augusta's metal traditions are long and widely varied. With such a long standing tradition one has to wonder what it takes to impress a crowd that has seemingly seen it all. Then along comes a band that makes you realize, "maybe there's more to it then I thought". Such a band is Athen's bonecrushers MUSIC HATES YOU. Even the name sounds more brutal than the average bitch slapping band name. Despite the "aura of darkness" I spoke to the guys, and even had a little fun!
LL - First off, does music REALLY hate me?
MHY: Yep. Don't take it personally. We're all victims.
LL - In prepping for this interview, I checked out your websites "bio". It didn't really help. Is this is a fair summation or just an effort to preserve a sense of band mystery and mystique?
MHY: I don't think anyone needs to know much more about us besides we're the ones who put the ringing in their ears and the broken glass under their nails. You don't really want us emoting our past all over you, do you? really? Who's gonna clean that up.
LL - Can you really be best described as "what Rocky Balboa's head feels like"?
MHY: Yes and no. You could say a lot more words and still fail, or you could just say that. Talking about what music sounds like is like painting a picture of how meatloaf tastes. I could say "Oh, it's a cross between Slayer and Culture Club" and you wouldn't be any closer to knowing what the band really sounds like. Plus, Rocky Balboa's head has served with honor. It's taken a beating and it's been drenched in a slurry of blood, spit and sweat while still protecting the soft gray stuff in the middle. How can you improve on that?
LL - Seriously guys, what can the casual listener expect when confronted by MUSIC HATES YOU live?
MHY: There's a term some engineers use: Sound Pressure. You should feel Music Hates You pressing against your chest. You should feel it trying to bore its way into your head. We are not entertainment. We are an emotional emetic... we are here so that you can bring your rage, your sins, your sadness, your fear, your disappointment at the life you ended up with, and lay it out on the floor to be ground into dust by the sheer volume and violence of what we do.
LL - On first listen, you guys don't sound like what listeners are used to from Athens bands. Is there a "heavy" music scene just waiting to be discovered in Athens?
MHY: Oh, hell yeah. There are dozens of heavy bands in Athens, these days. Brown Frown and Polemic are two bands we play with all the time. Teenage Meth Lab practice down the hall from us, as do Knife Trade and the zombie version of Another Broken Vehicle. We've had a couple of dry years in Athens where most Athens bands had songs containing poorly played brass instruments and musicians in zany pants. It's time someone flushed that bowl, since it wasn't terribly interesting to start with!
LL - Speaking of heavy, heard some preview tracks from the new cd, when can the public expect to be blistered by this soon to be released platter?
MHY: We hope to get it out this fall/winter. We have some work in front of us before it hits the streets. We also have some people listening to it to decide if they want to put it out for us. I'm sorry I can't be more specific than that.
LL - And the road... going o.k. for you guys?
MHY: Every time we leave town we rediscover that people love this band, so yeah, touring has been fantastic. I mean, gas costs a fortune, our van is a fascinating gamble every time we load it up, we don't get to leave town half as often as we'd like and we still have day jobs, but we love hitting the road, believe me.
LL - You gotta be excited about coming back to Augusta! Looking forward to hanging out at the Soul Bar again?
MHY: We love the Soul Bar. I have known Coco and Didier for something like twelve years. The Soul Bar is an island of cool. I love coming back there, and I have for the many, many years I have been touring and playing music.
LL - So what is the most important thing Augustans should know when getting ready for your show at the Soul Bar?
MHY: Bring earplugs if you're delicate. Bring a helmet if you're not.
> LL - O.k., few quickies and we're outta here...

LL - What's hot in the bands cd player right NOW!?!?
MHY: I am listening to Black Rebel Motorcycle Club's "Take Them on on Your Own" at least twice a day and the latest Meatjack CD a lot. Noah is giving heavy spins to Jesus Lizard's "Goat" and Eye Hate God's "Confederacy of Ruined Lives."
LL - Band you've most enjoyed sharing the stage with?
MHY: Brown Frown brings all the hot hoochies. How could you argue with that.
LL - The single most important thing to have on the road is...?
MHY: I toured non-stop for something like ten years. Always bring your own pillow and a plastic bag to put wet clothes in.
LL - Worst food to eat BEFORE going onstage?
MHY: Anything, really. You need to be hungry to play well. You get up there all fat and happy and you're gonna play like it doesn't matter. It matters. You gotta sing for you supper.
LL - O.K. guys, thanks a bunch and we'll see ya September 29th at the Soul Bar! (with 88MPH and Three the Hard Way!)
MHY: Our pleasure, Stoney. Any time.