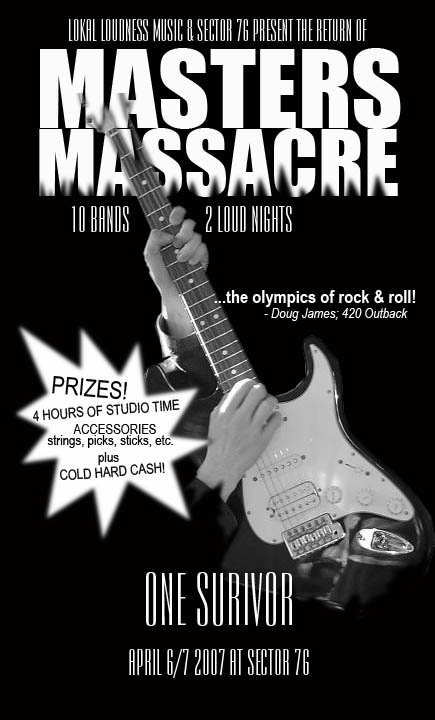 The Masters Massacre has been called the "olympics of rock & roll"!
More than just music...it's an obstacle course on all aspects of being in a band!
15 minute setup, 30 minute set, 10 minute teardown. The extremest of conditions!
And it's a fair shot straight down the line!
Bands have a chance at 100 possible points...the breakdown is as follows:
Setup: Load-In and Setup in 15 Minutes and get 10 points. Don't? then ZERO!
Set: Ya got 30 minutes. Stay under 30 then BAM! 10 points. Over? NADA!
Teardown: Be off the stage in 10 minutes and grab 10 more points. More? ZILCH!
THAT'S 30 EASY AS PIE POINTS...or are they?
Crowd Response: So you have 50 people in front of you. Are they going nuts?
5 people raising cane will getcha more points than 50 just chillin'.
20 possible points.
Stage Presence: Do ya REALLY wanna be on stage? The crowd knows and so do we.
20 possible points.
Musicianship: So you have the energy. What about having it together? This is more about
being tight as a band than being a virtuoso so don't flip out.
20 possible points.
Originality: Are you one of a kind or a super clone? Sure we all sound a LITTLE like
somebody but is it your own take? Of course it is, right?
10 possible points.
Cameraderie: Sure this may be a battle of sorts, but the Masters Massacre has always been
about something bigger: bringing bands together. Play fair and guess what?
Lotsa love! Play mean, talk REAL trash (fun ribbing is allowed) and get DQed!
Besides, this is an all-ages event. So no crap..and no alcohol either!
So how does one get into the Masters Massacre? Well here's how it be done:
Requirements: This is Simple. Just be available for either day. No requests.
To keep it fair we choose everything randomly. Once we get 10 bands then we will
choose at random who gets what day and on the day you arrive you and your fellow
combantants will choose time slots. Fair enough?
Other requirment? Have a myspace account with music & photos.
Send us a message from your myspace to our myspace (www.myspace.com/lokalloudnesslive)
with the subject title as: "Looking for a Massacre" with a link to your myspace page.
You can add in why you should be in the Masters Massacre but it really won't matter
Finally, you must be from either Georgia or South Carolina to participate.
We will have 6 guaranteed slots for area bands and 4 for out of town bands.
You will be informed by March 17th and asked to confirm your appearance at this event.
If we have not received confirmation within a week the next band on the list will be asked.
Out of town bands keep in mind...there is no pay unless you win. So make sure if you
are unable to fund a trip to this event, do not apply.
So, looking forward to hearing from all of you great bands! Ready, set, GO!
Oh yeah, one more thing. You have until March 15th to submit!