TAILORED - TAILORED
One part classic rock, one part modern rock, several parts energy and passion, TAILORED is an Augusta band that bridges the power of rock and the emotion of Christianity. One listen to their self-titled debut release is enough to make anyone realize that fact.
Songs like "The Light" praise the almighty with a modern rock sacrifice along the lines of Nickelback or even Creed. The only difference being that TAILORED wears a southern heart on their collective sleeves and it shows. But while this lokal quartet can rock, their strength may lie in their ability to express emotion.
"By His Grace" is a great power ballad that could sit just as easily on a modern pop record as it could a new country album. But while this emotion might be their strength, found within could also be their greatest weakness.
TAILORED has all the attributes to make a great band except for possible one thing which in time could be cultured and refined. Overall the lyrics found on TAILORED debut are for the most part overly typical and filled with many overused catch phrase-esque lines. But like previously mentioned, that can be worked out with time.
The guys hit a great pop rock mode in "Holy One" possibly the best tune found on this release. With a little more vocal work in the studio including adding backing vocals this could go from being a good little tune to a great concert sing-a-long.
While this will never be deemed the end all of even area Christian releases it has enough qualities to please anyone into Christ and anything that sounds like John Mellencamp meets Nickelback. With a little work TAILORED could not only turn into a great Augusta Christian band but into something bigger.
To check out this music and more visit Tailored Online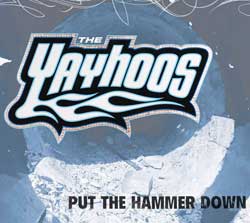 THE YAYHOOS
PUT THE HAMMER DOWN
The Yayhoos play good ol' fashioned red blooded American rock & roll! Not surprising when you consider the Yayhoos are an American quartet made of mostly southern bred rockers. So how come it is then, an American band that most of American has never heard of, tours and performs for a rabid following in places such as Spain, Germany, Japan and the UK? First one must realize who the Yayhoos are.
All four Yayhoos are card carrying rock and roll vets with a resume thicker than a Shakespeare novel and muddier than a Mississippi dirt road after a rain storm. Guitarist Eric Ambel was a founding member of the Del-Lords AND Joat Jett's now famous Blackhearts and most recently was the lead guitarist for Steve Earl's band the Dukes. Terry Anderson has beat the skins for the likes of the Fabulous Knobs and has written songs recorded by Etta James and Jo Dee Messina. Bassist Keith Christopher was an original member of the Georgia Satellites and has toured with Billy Joe Shaver, Tony Joe White, Kenny Wayne Shepherd and Paul Westerberg. And guitarist vocalist Dan Baird? Well you may remember him from a little ditty that just about every roadhouse band has covered called "Keep Your Hands to Yourself". Yep, we're talking Mr. Baird of those same Georgia Satellites. But enough of the players, what about the music?
"Put the Hammer Down" starts off with a clunky rocker called "Where's Your Boyfriend at?" courtesy of Anderson with vocals from Baird. This one even comes complete with a chunky bass solo and is the perfect jerky dance number. This number could have easily been on either of Baird's solo CD's or Anderson's Olympic Ass-Kicking Team release.
"All Dressed Up" is a fine blend of Izzy Stradlin, Stones and the Faces. Matter of fact, most of "Put the Hammer Down" lies in this territory with a few nasty blues stompers like "Never Give an Inch" or "Would It Kill" dropped in for maximum drinking effect. It's an easy mix drink of English Whiskey rock and Southern bar room blues.
Surely we've heard most of this before just not for a long time. Good fun rock & roll made for a sreamy backwoods friday night and a cold case of PBR. In a perfect world this would be an instant Camaro classic. Unfortunately in today's world it seems like only the English, Spanish and Japanese have good enough taste to appreciate such a delicious plate of good home-cooked rock & roll.
To check out Dan and the boys and to hear samples of the entire cd, visit the Yayhoos Online