REVIEWS
PEDESTRIAN - self titled by John "Stoney" Cannon
Question. What do you get when you mix boy band good looks and super songwriting skills and musical ability? Stumped? Before you even try and convince anyone that the answer might be Hanson let me please introduce you to Augusta band PEDESTRIAN.

Led by scene vet and former Riff Raff King Jeremy Carr and rounded out with the youthful yet talented trio of super cool bassist Alex Bruce, dead-on drummer Pete Carroll and Anthony Federov American Idol look-a-like Will McCranie on guitar, Pedestrian is a band that defies definition amongst it's Augusta peers. Yep, I said it. Pedestrian is a one-of-a-kind gem in a scene filled with treasures. But what makes this simple band so good?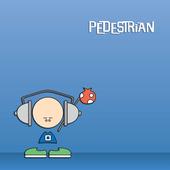 Starting with the cd artword, Pedestrian keeps things attractive yet simple as to not divert the listeners attention away from the music. The same can be said for the bands onstage performances but that's another review altogether. For now, it's all about the music.

Keeping with the simplicity, this cd is all killer and no filler, perhaps the reason behind the band choosing only seven tracks. And man are they seven great catchy fun tracks! "Cafeteria Girl", a swirling sing-a-long at shows, gets the kick ball rolling right into rocker "Goodbye", which is also on this years Meltdown compilation in early form. Personal fave "Unexpectedly" is a powerful track and along with "Fireworks", "Healing" and "In December" sandwich cover track "Feeding the Hungry Ghost" marvelously.

Not only is the hook factor prevelant here, the bands dynamic is also apparant when listening to each track. More than just simple pop tunes, this debut by Pedestrian is also at times surreal as well as eclectic. Something rarely found in pop these days.

To take a listen check out http://www.myspace.com/pedestrian