INFO

M.A.D. Studios
307.5 11th Street
Augusta, GA 30901
Tel: 706.836.5683
info [at] madstudiosaugusta.com

Hours:
Gallery
Tue. - Sat. 11am - 5pm
Studio
Tue. - Fri. 5pm - 11pm
Sat. 11am - 11pm
Events
7pm - 10pm
First Friday
5pm - 10pm

Staff:
Brian Allen - Events Coordinator
neatodrum [at] yahoo.com

Leah Deslandes - Gallery Coordinator
leahlovesphotography [at] gmail.com

John Cannon - Studio Coordinator
info [at] lokalloudness.com





MUSIC
---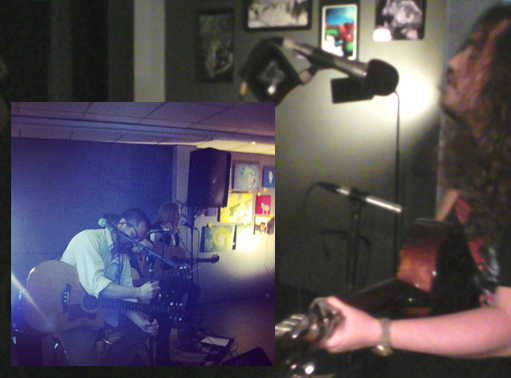 "Augusta has needed a listening room venue like M.A.D. Studios for the longest time."
~Singer/songwriter Carey Murdock
---
LISTENING ROOM: M.A.D. Studios was created with the music listener in mind. By offering a small, intimate setting to truly enjoy acoustic artists, music fans are able to take part in the experience whether it's just as a listener or as part of an intimate live recording. The room provides a space not only for monthly M.A.D. showcase events, but for performers looking for a nice room for a one-of-a-kind live recording experience.

ROOM RENTAL Looking for a cool space to put on an acoustic all-ages/non-smoking show? All listening room events are scheduled from 7-10PM and include in-house sound. Capacity is 50 people. $50 minimum up-front holds the room and frees up tickets to be sold at price you set. Tickets can be sold in the gallery, by you...or both. (No "at door" ticket sales night of show - all sales must be made before eve of event.) In addition to the $50 deposit, $1 of each ticket sold goes to M.A.D. Studios and you get the rest!

AUGUST STUDIO SPECIAL BAM (broke ass musician) Package - Always wanted to put out a cool CD? What about a live one with a crowd that is respectful during each song and appreciative after? Can't afford it you say? Well with a little work and effort, you really can. Book a three hour live performance block in our listening room (package times 7-10pm and available for acoustic solo artists/bands) that will allow time to setup, put on a one-hour performance and then mingle before leaving for the low price of $200. Wondering even more how you're gonna be able to afford that amount? Well your $200 doesn't only get you a performance stage with sound and recording gear/staff but also a bunch of tickets (60) that you can toss in the trash, give away, sell for just enough to make your money back or sell for enough to actually turn a profit! So...you can record a live album and make money off of it before it even hits the streets! Only real catch? $25 deposit necessary to book block with remainder to be paid prior to taking the stage for performance. M.A.D. Studios will even help you sell tickets by advertising the event and forwarding people in the right direction to get tickets!
---
RECORDING: M.A.D. Studios offers recording services at musician friendly rates hourly or with one of our custom "mix & match" packages. From live in-studio acoustic recordings with or without an audience to full-on multi-track recording to beat/overdub tracking as well as commercial production, M.A.D. Studios has something for just about every situation including small run duplication services and experienced studio musicians.

Hourly Rate - $25
Song Bundle (1 song) - $75 (Max 5 Hours Recording Time Including Mixing)
Set Recording - $10 (Live set taping w/quick mix to CD same night)
BAM Package - $200 (Live Show Recording - See Description Above)
Studio Musician - $25 Per Musician Per Song

Ask about our mix/match packages including promo and press packs and more.
---
LEARNING/REHEARSAL (starting summer 2013): M.A.D. Studios supports music education and in addition to offering a selection of individual/group lesson programs our staff will go M.A.D. putting together some great workshops & clinics. Keep an eye out on our website for upcoming events as well as how to get involved in our upcoming "ALL the Kids Wanna Rock!" program.
---
For more info on our studio or programs call Stoney at 706.836.5683.